About Louvain-la-Neuve
Located 30 km from Brussels,
in the heart of Brabant Wallon Province
, the
UCLouvain
site in Louvain-la-Neuve welcomes
more than 20,000 students
in its 11 faculties.
The city, created in 1971 by the university, is
one of Europe's youngest
. Surrounded by countryside, it offers an
exceptional quality of life to students
, researchers, professors and residents. Museums, cinemas, theaters, concert and exhibition halls, a swimming pool and fitness center, restaurants and cafés, commerce and green spaces all combine to form a whole that is renowned for its convivial and dynamic ambiance.
Its
entirely pedestrian center
eases access to all academic buildings and creates an environment in which students, researchers, professors and residents repeatedly cross each other's paths, weaving a unique social, cultural and economic fabric.
How to reach Louvain-la-Neuve
Louvain-la-Neuve is a pedestrian city well connected with the public transportation. We strongly recommend participants and speakers to reach the city by train (approx. 1 hour from Brussels) and to avoid plane if they are traveling from less than 1000 km.
By train
The station
Louvain-la-Neuve-Université
is at 5 minutes walk from the place of the doctoral school. It is necessary to transit trough station
Ottignies
, which is directly connected to
Brussels-Midi
and
Brussels Airport
(approx. 40 minutes),
Liège-Guillemins
(approx. 1h20) or
Namur
(approx. 25 minutes). Note that
Brussels-Midi
is connected to numerous international trains like Thalys, ICE, NightJet and Eurostar.
Liège-Guillemins
is also connected to Thalys and ICE. More information on
b-Europe
(for international trains) or
belgianRail
(for local trains).
By bus
The bus-station of
Louvain-la-Neuve (Gare des bus)
is also at 5 minutes walk from the place of the doctoral school. Check on
letec.be
to plan a bus transit.
By car
Even if Louvain-la-Neuve is pedestrian, there are three speedways connecting the city (A4/E411, N25 and N4). Parking is possible under payment: please contact us if you need access.
By plane
The closest airport is
Brussels airport
. From Brussels, a fast connection by train is possible (see above).
How to reach the doctoral school venue?
The doctoral school is taking place at the "Foyer du Lac" and "Mezzanine du Lac", on floor -1, at the back of the Aula Magna (i.e., on the lake side, see map below or on
OpenStreetMap
or
Google Maps
).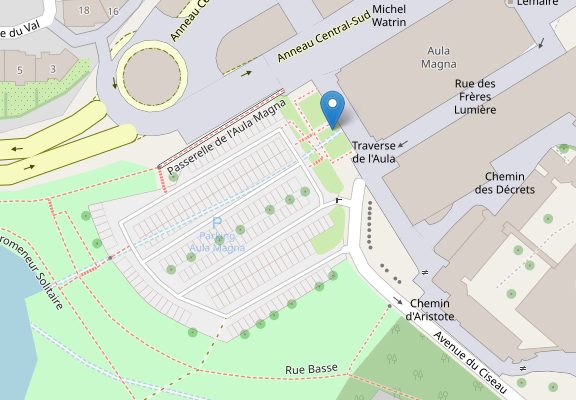 The easiest way to access the doctoral school venue is from the "Parking Lac" (see gray parking area on the above map, on
OpenStreetMap
or
Google Maps
, or on this
PDF access map
). You can also use this parking if you're coming by car.
Accommodations in Louvain-la-Neuve
We recommend two different hotels in Louvain-la-Neuve, but also a youth-inn.
The
Martin's Agora
hotel is located next to the place of the doctoral school and in the very center of Louvain-la-Neuve. Approx. price: 130€/night.
The
IBIS hotel
is located at 15 minutes walk from the center, in a relaxing green place next to the forest. Approx. price: 100€/night.
The youth-inn
Mozaïk
is at 5 minutes walk from the doctoral school. Reservation only by phone. Approx. price: 20€/night in shared rooms, 50€/night in private rooms.
Please note that Brussels is also full of hotels and quite well connected to the city.