Joana Moll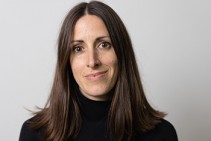 Visiting Lecturer at Universität Potsdam and Escola Elisav
Co-founder of the Critical Interface Politics Research Group
Co-founder of The Institute for the Advancement of Popular Automatisms
Joana Moll
is a Barcelona/Berlin based artist and researcher. Her work critically explores the way techno-capitalist narratives affect the alphabetization of machines, humans and ecosystems. Her main research topics include Internet materiality, surveillance, social profiling and interfaces. She has presented her work in renowned institutions, museums, universities and festivals around the world such as Venice Biennale, MAXXI, MMOMA, Laboral, CCCB, ZKM, Bozar, The Natural History Museum in Berlin, Austrian Museum of Applied Arts (MAK), Ars Electronica, HEK, Photographer's Gallery, Korean Cultural Foundation Center, Chronus Art Center, New York University, Georgetown University, Rutgers University, University of Cambridge, Goldsmiths University of London, University of Illinois, Concordia University, Universitat Autònoma de Barcelona, ETH Zürich, École d'Art d'Aix en Provence, British Computer Society, The New School, CPDP 2019, Transmediale, FILE and ISEA among many others. Her work has been featured extensively on international media including The Financial Times, Der Spiegel, National Geographic, Quartz, Wired, Vice, The New Inquiry, Netzpolitk, El Mundo, O'Globo, La Reppublica, Fast Company, CBC, NBC or MIT Press.
Talk: The Interface, Deconstructed
Our so-called networked society has failed so far to transpose the logic of interconnectedness into our lives. Citizens are becoming increasingly machine-like and dependent on data, threatening the connection between humans and their natural habitats. Although most of our daily transactions are carried out through electronic devices, we know very little of the apparatus that facilitates such interactions, or in other words, about the factory that lies beyond the interface. In this talk, we will discuss the interface as a well-engineered capitalist machine that disconnects users from the material complexities of global chains of commodity and data production—and also social reproduction—with the aim of increasing economic profit. Thus, it is necessary to trace the connections that exist between things—as well as the workload involved in the basic maintenance of those connections—if the user is to fully understand the systems they operate in, in order to balance and repair the profoundly asymmetrical distribution of agency, energy, labor, time, care and resources within these planetary networks.