Lê Nguyên Hoang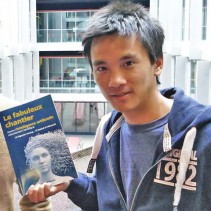 Researcher in security of AI algorithms and communicator of computer science at EPFL
Youtuber at Science4All
Co-founder of Tournesol.app
A graduate of the École Polytechnique de Paris, Lê Nguyên Hoang obtained a PhD at Polytechnique Montréal, then was a post-doctoral fellow at MIT. He is now a researcher in security of artificial intelligence algorithms and communicator of computer science at the École polytechnique fédérale de Lausanne (EPFL). Lê is also a YouTuber on his Science4All channel, which has 200k+ subscribers. He has also published the books "The Equation of Knowledge" (CRC Press) and "Le fabuleux chantier" (with El Mahdi El Mhamdi) published by EDP Sciences and "Turing à la plage" (with Rachid Guerraoui) by Dunod. More recently, he co-founded Tournesol.app, a platform for collaborative content recommendation.
Talk: Tournesol : a solution to AI ethics ?
Many global challenges, such as social justice, climate change, and pandemic mitigation, require global awareness and quality information. Given the central role of today's recommendation algorithms in the flow of information, these challenges desperately need algorithms to promote public benefit content, rather than allowing it to drown in a flood of misinformation. In this talk, I will introduce Tournesol? an open source project whose goal is to transparently identify the best utility videos by soliciting judgments from a large number of contributors on content quality. I'll sketch out how Tournesol could potentially solve the infodemic crisis, highlight the many hurdles that need to be overcome to get there, and discuss how you can help our fabulous endeavor.