Thomas Walewyns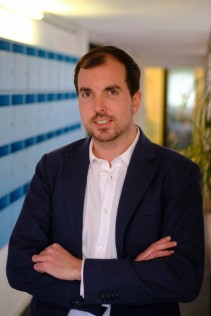 Co-Founder & CEO of VOCSens
Thomas Walewyns
, Dr. Ir., received the M.Sc. degree in electromechanical engineering and a Ph.D. degree in engineering sciences, both at the Université catholique de Louvain (UCLouvain), Louvain-la-Neuve, Belgium, in 2010 and 2016 respectively. From 2013 to 2015, he was also carrying out an Executive Master in Management at the Louvain School of Management. He is currently Co-Founder & CEO of
VOCSens
, a spin-off from UCLouvain, ICTEAM Institute, focusing on the development of ultra-low-power smart microsensors for environmental monitoring and industrial control applications. His scientific interests are related to CMOS co-integrated nano-/micro-electromechanical devices (NEMS/MEMS), ultra-low-power sensors, autonomous systems, microfabrication and nanotechnology, with a strong focus on innovation and research valorization. He is author and co-author of more than 25 scientific articles and conference papers, and holds 3 patents.
Talk: Responsibility and sustainability with regard to highly reliable and qualified environmental data supply: antagonist or reconcilable?
VOCSens
has started its journey in February 2019 with the vision to ensure the safety & health of our ecosystems, by providing sensing solutions for environmental monitoring and process control applications, making the invisible visible. Operating under a function-oriented business model, VOCSens works on developing nanotech-based CMOS-compatible gas microsensors in a product-service system for real-time, autonomous and reliable data supply. Our "EnviCam" products highlight the concept of environmental camera. In this talk, we will see what are the bumps and the challenges as well as the support that a spin-off looking to create meaningful impact has encountered on its path and discuss the road ahead. We will especially analyze the current market trends & challenges with regard to industrial digitalization, where responsibility and sustainability are facing each other.